Belize
Travel and Tourist Information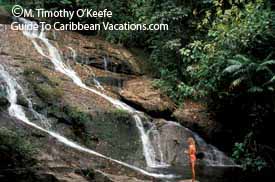 Belize is a good destination for eco-travelers.
The cycle begins anew
Maya civilization in Belize dates back to 1,500 B.C. It's estimated that possibly a million or more Maya lived within Belize's present borders a thousand years before Europeans arrived.
Today, Belize's population is about 200,000.
There are more ancient Maya sites than modern houses.
Belize is starting to boom again. Belize City is one of the new cruise destinations in the western Caribbean. (See map).
Eco-travelers are discovering it is almost as exciting as Costa Rica. It doesn't have the cloud forest.
One of the most popular full-day trips is the journey to the ancient Maya city of Xunantunich.

Pronounced ?zoo-NAN-too-NICH,? it was the first major Maya site ever opened to the public in Belize (1954). It has since become the symbol of the country.

Belize Things To Do